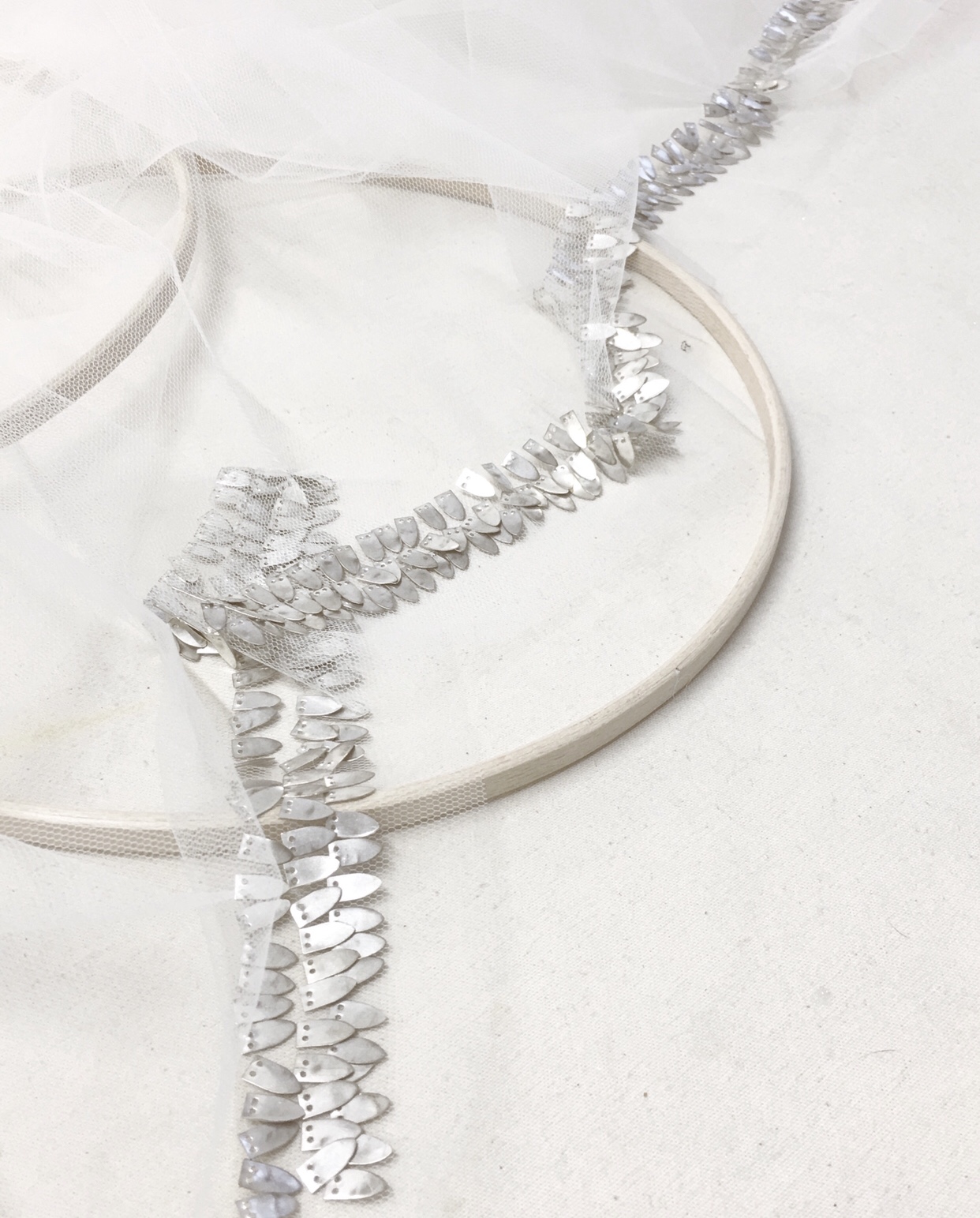 Ethics & Environmental Policies
Our Studio Policies and Practices
Although we are a small business (there's just the two of us!) it's hugely important that we do our part to help the environment and our community both locally and on a world wide scale throughout our work and practices. We try to be environmentally conscious and only work with suppliers that we wholeheartedly trust.
Here at AM Faulkner every piece is made by hand in our East London studio using high quality, ethically sourced materials. We are extremely proud to be able to trace the origins of every single fabric and element we use in our pieces. So here's a bit of background information on the materials we use and where they come from.
T U L L E S / L A C E S / P L A I N F A B R I C S
All our tulles and plain silk fabrics come from British and European mills (France, Italy & Portugal) with good working practices. We order through a London based company who can provide detailed info on all the fabrics we use. We have also started working with bamboo fabrics which look very similar to silk but are sustainably produced.
E M B E L L I S H E D F A B R I C S
Most of our embellished fabrics are designed and produced in our studio, however, we often use ready made embellished fabrics which we work on top of. These fabrics come from a family run mill in Kolkata, India, which has excellent working practices, conditions and pays their workers a fair wage. Ann-Marie has personally met the owner of this mill and can confirm she is an awesome female changing the face of the Indian textiles industry.
G L A S S B E A D S
Beads are sourced from the above Indian factory, are vintage, sourced from the Netherlands or from a Japanese bead company also with excellent working ethics and practices.
S E Q U I N S
Our sequins are sourced from the last remaining sequin factory in the UK - right around the corner from our studio in Stratford.
S W A R O V S K I C R Y S T A L S
We source these directly from Austria and are confident that the employment conditions are satisfactory as we have direct contact with the management.

F R E S H W A T E R P E A R L S
We source these directly from a small family run pearl farm in Yiwu, China. The pearls are sustainably produced and the company provide good working conditions and wages for their workers.
S E M I - P R E C I O U S S T O N E S
We don't use a large amount of semi -precious stones as its quite hard to trace the origins of them, but the ones we do use (moonstone, blue lace agate & quartz) are sourced through a British company with exceptionally high ethical standards. They only work with suppliers who can ensure they treat their workers fairly - providing a safe work place, access to health care, a fair wage, abide by local license and pollution control laws and can provide photos of the work site.
F E A T H E R S + F U R
We don't use these. We never have and never will so please don't ask!

Environmental Policies
We try to keep our waste to bare minimum. As the pieces we produce are quite small, this is surprisingly easy to do! Any scrap fabrics or materials we have left over we donate to local schools and organisations on a regular basis.
We only use water based fabric stiffeners, never solvent based as these are gentler on the environment.
We recycle as much as possible and have an absolutely tiny bin - as not much goes in it!
All of our packaging is produced from recycled materials and is 100% recyclable- including the parcel tape! We do use degradable plastic sleeves to send our veils out in as we find this protects them the best, especially when they have to travel a long way. These sleeves are designed to be kept, reused and used to store your veil in after you have worn it, so please help us by keeping and reusing them.

We are genuinely trying our best but are sure there is probably more we can do, so if you have questions or suggestions then please let us know!